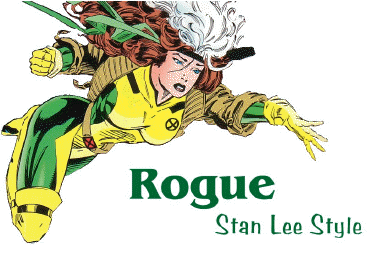 My pride and joy. Enter the one and only Rogue- in all her green and yellow spandex glory!
Yet again- EVERY IMAGE HERE was scanned and edited by me.
The images aren't mine- they're Marvel Comic's- but I put alot of effort into them.
Please share images responsibly- and give this site credit if you post these images on your site.

View My Guestbook
Sign My Guestbook
OR- If you have questions, comments, or complaints, email me!


http://www.marvel.com
Name of character and the distinctive likeness thereof are Trademarks of Marvel Characters, Inc. and are used with permission.
Copyright 2001 Marvel Characters, Inc. All Rights Reserved.