Welcome to Rogue E v o l u t i o n, a web page devoted to our favorite X-Woman!
This website is dedicated to featuring the many changes that Rogue has undergone since
joining the X-Men, many years ago.
ALL THE IMAGES ON THIS SITE WERE SCANNED AND EDITED BY ME-
therefore,
P L E A S E give this site (and Marvel) credit if you wish to post them on your own site.
This is not asking for much- I spent many hours painstakingly editing the images to
a quality worthy of this southern belle.
*NEW*
To help give this site credit, I've created THREE CHOICE BANNERS!
6/20/02:
After nearly a year of neglect- I fixed the thumb nail problems and resurrected the URL!
Because of the dastardly V3 and their damn capitalistic inclinations, I now am
http://greensugah.tripod.com
not
http://flying.to/rogue
The above address is now defunct!

A Rogue Rant page was added to display my frustration towards Rogue Related Happenings.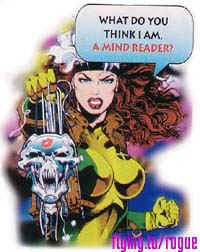 SO- Please sign my guestbook!

View My Guestbook
Sign My Guestbook
OR- If you have questions, comments, or complaints, email me!
Check this site out! One of the best rogue sites out there! Rogue Unlimited
FastCounter by bCentral


http://www.marvel.com
Name of character and the distinctive likeness thereof are Trademarks of Marvel Characters, Inc. and are used with permission.
Copyright 2001 Marvel Characters, Inc. All Rights Reserved.